1. Make sure you get your flowers into clean water as soon as possible. Wedding clients, we know your flowers are the most important but this also means they're out of water the longest! Try to get them into water during your reception and until you ship them to us. This will make sure they stay hydrated and fresh. It's also a great idea to ship us any other flowers such as centerpieces, since those will most likely be in water longer.  2. Wrap the ends of your flower stems in a wet paper towel- this will make sure the flowers...
---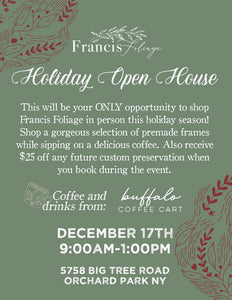 Stop by the Francis Foliage open house this December and get meaningful handmade gifts for the loved ones in your life! We will have a gorgeous selection of pre-made flower frames available in all different sizes. We will have birth month frames, Christmas frames, ornaments, and so much more. The first 10 people to arrive will also receive a FREE drink from Buffalo Coffee Cart! Buffalo Coffee Cart is the first mobile coffee bar in Buffalo with a full on espresso machine. AKA the drinks are going to be amazing. We can't wait to see you here!   December 17th...
---
Did you throw away your wedding bouquet? Is it hang drying in your basement collecting dust? No worries, we can recreate it for you! All we need from you are some photos of your bouquet; the more photos the better. If you don't have any pictures, a list of the flowers you had will do! We can source almost any flower possible. Some flowers are only available during certain seasons, so this process can take a bit of time. Pricing varies based on flowers. If we have to source live flowers to press, it can cost anywhere between $45-$250 for just the...
---
Is your garden looking particularly beautiful this year? Let us press some flowers for you so you can remember your garden forever! For the rest of the month of August we are offering $100 8x10 frames featuring your garden flowers. You'll be able to choose between a black or silver frame (pictured below). We will only accept flowers form your garden, no wedding bouquets or store bought flowers will be allowed. Garden flowers/wild flowers are much easier to press and take up less space in our presses, which is why we are able to offer these frames at a lower price....
---
Here's your reminder that Mother's Day is less than a month away! Thinking of a gift idea? Let's be honest, mom doesn't want another blouse! Get her a gift that she can cherish for years to come that won't end up in the donation pile. We have the gift she's going to love. Click on the link provided below to shop our frames like the one pictured below! https://francisfoliage.com/collections/pressed-flowers